Take winter in your stride with the EW range from Evergreen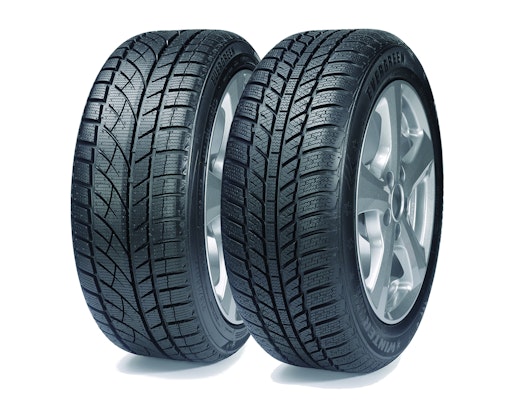 With wintry conditions becoming more disruptive in the UK, consumers are becoming increasingly aware of tyres that offer improved cold-weather performance.
Extra grippy and made of compounds that perform best in low temperatures, winter tyres can make a real difference to driving safety and control when severe weather hits.
Evergreen has two variants of winter tyre - the symmetrical EW62 and the asymmetrical EW66.
The EW62 is formulated to remain soft in low temperatures, maintaining traction and cornering stability.
Its reinforced centre rib maintains handling control for longer, even at speed, while gradually widening lateral grooves and sipes help keep the tread clear of debris and channel water and sleet away from the contact area.
If maximum grip is what you're looking for, the asymmetrical design of the EW66 offers a greater contact area in corners.
A heavy concentration of grooves ensure that, even in snow, the EW66 is capable of retaining grip while its upgraded silica compound further adds to its ability to hold the road. 
A serrated outer main groove edge offers extra bite when braking and its triple-channel tread design helps preserve stopping distance and contact with the road in cold, wet conditions.
Evergreen UK Commercial Manager Peter Cross said: "As the UK is experiencing more regular severe weather events, it's time we started to think more seriously about winter tyres.
"While the worst storms will always have an impact, winter tyres do enable drivers to safely travel in much more wintry conditions than standard summer tyres. Evergreen tyres is a safe, cost-effective way to try winter tyres and experience the difference for yourself."