Great service and innovation fuel Oak Tyres' 40 years of growth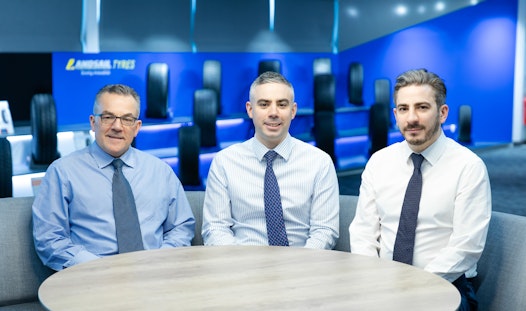 'If we provide a better service than our competitor, great things will happen.'
That has been the Oak Tyres philosophy since it was established in 1980 and it's hard to challenge. Still independently owned, Oak Tyres celebrates both its 40th anniversary and 40 straight years of sales growth in 2020.
Today Oak is one of the largest independent tyre wholesalers in the UK with more than 500,000 sq ft of warehouse space across Haydock, St Helens, Manchester, Leeds and Tyne and Wear. 
It has exclusive UK distribution rights for two hugely successful brands - Landsail and Evergreen - and has established its own, global, private tyre brand Davanti. 
Keeping the business true to its foundation are the senior management team - partly consisting of founder Larry Cross and his sons, General Manager Peter and Development Director Gary.
The focus was always on the customer. The goal - to build the business by developing a reputation for offering better service than Oak's competitors.
In 1980 wholesalers played a much smaller role in the tyre industry as manufacturers dominated the supply market. Oak Tyres founder Larry Cross identified an opportunity to establish a wholesale business with a clear vision - to develop a range of brands in the UK to increase choice and give retailers more control of their businesses.
That early decision to switch to wholesale sparked Oak's impressive rise to prominence. Initially securing warehouse space in St Helens in Merseyside, by the dawn of the 90s Oak was the biggest wholesaler in the North West.
Rapid expansion never became an excuse to abandon Oak's core principals. Innovation and great service were built on a promise never to move into the retail space - giving retailers the security of knowing they would never face direct competition from Oak.
Oak's commitment to offering customers the best products and services drove them to create Grouptyre in 1995 - based on the idea that independent wholesalers should 'group' together to increase their influence with brands.
For the first time regional wholesalers combined their buying power to bring exclusive brands to the UK in volume and develop them.
"To meet the demand for key brands we needed to purchase in greater volumes," said Larry. "Working with other wholesalers benefited everyone and led to the creation of a multi-brand same-day UK delivery service which remains market-leading in terms of efficiency."
Oak's success meant it needed to find new sites and new territories. Around this time Larry's sons, Peter and Gary, joined the business having developed a keen understanding of the tyre industry. 
In 2005 Oak introduced a number of new people to its growing senior management team to support its wider operations. Peter became General Manager and Don McIntyre was recruited as Sales Director. In 2009 Gary became Development Director and Andy Burgess was brought in as Finance Director.
Three years ago Oak relocated its head office to a 15,000 sq ft complex in Newton-le-Willows, Merseyside.
For the first time this allowed Oak to create a central, open plan hub for 100 talented individuals across sales, marketing, purchasing, accounts and operations teams. The result - a head office where cohesive communication is made easy and teams are able to collaborate to build on Oak Tyres' success.
"The philosophy never changes," said Larry. "If we do things better than the competition, you can make great things happen. We're transparent with our workforce about what the business needs are. That understanding enables them to do whatever is required to maintain our success."
"Oak's employees are empowered to make decisions," added Gary. "We work hard on staff engagement. Business Development Managers can visit customers and have freedom to make decisions to help them grow their businesses.
"We also develop bespoke technical solutions in-house. With Oak Partnership, our new Stock Keeping Units (SKUs), manufacturers and brands coming into the market all the time, having our own dedicated systems for customers makes their life much easier."
Peter believes the lack of bureaucracy is Oak's greatest strength. 
"We have built a team with expertise, experience and skills to serve our knowledgeable customer base," he said. "In some businesses it can take years to get things done. 
We give employees the ability to make dynamic, informed decisions for the benefit of their customers. They have ownership of their customer relationships.
"I think that's something that really helped us cope with the Covid-19 outbreak. We were able to maintain a vital supply line for customers who were helping to keep critical workers mobile during lockdown.
"At the same time we were implementing new measures to change the way we worked to maintain the safety of our staff without interrupting the supply chain.
"It was one of the biggest logistical challenges the business has faced, but our employees made it work by pulling together to help find solutions. The close customer relationships we have built meant any disruption the pandemic did cause was greeted with patience and we are thankful to all our customers for their understanding.
But Oak could not thrive on great service alone. Staff need the tools to offer market-leading solutions. 
"What we saw back in 2009 was that the manufacturing landscape was changing," said Peter. "There was a whole wave of manufacturing centres in China beginning to make their mark and the brands that were considered established in the market were changing.
"Now, following Covid, we are seeing the market bounce back quickly and robustly and we are already building our service levels back up to their pre-Covid levels." 
In 2010 Oak introduced Evergreen Tyres to the UK and a year later secured the UK distribution for Landsail Tyres. It applied the brand building and marketing knowledge established over 30 years to turn them into recognisable brands. One in every 25 tyres now sold in the UK is a Landsail tyre.
Then in 2015 Oak made its next innovative leap - creating a new tyre brand.
"Given everything we'd learned, it was the natural thing to do," said Peter. "Davanti gives us the flexibility to develop the sizes and patterns we want and a route into a global market. Things we couldn't achieve with an existing brand.
"We are still fully focused on developing the brands we partner with in the UK, but now we enjoy the extra benefits of outright ownership of a brand. We can tailor our product range to the demands of the market."
"It goes back to our central focus - our customers," added Gary. "For 40 years we've delivered the service and products they need and we'll be doing it for the next 40 too."