Landsail exceeds expectations in expanding UHP market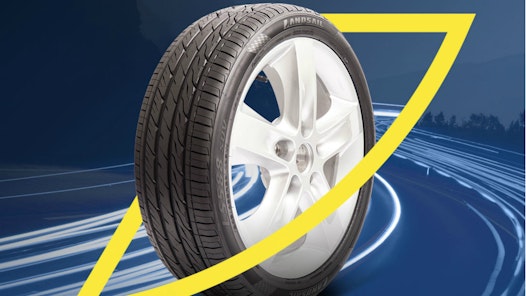 Ultra High Performance tyres are expected to suit a broader range of applications than ever - and Landsail's LS588 has been designed to satisfy them all.
Think UHP and you think sporty, fast, agile. But today's UHP also needs to offer longevity and strength. From hot hatches to family SUVs, the LS588 is engineered to give you everything you expect - and a lot more.
Manufactured in one of the most advanced tyre plants in the world, the LS588 is a response to vehicle manufacturers increasingly fitting UHP tyres as standard across their production range. 
Its central 3D block anchors the tyre providing agile handling, even for larger vehicles, while the LS588's advanced silica compound has been coupled with heat-resisting bars built into the shoulders to extend the life of the tyre by reducing wear.
A wide contact patch is designed to provide enhanced control and innovative design techniques have been used to create a tread pattern of grooves and channels that drives moisture away from that contact area, optimising grip and braking in wet conditions and minimising the risk of aquaplaning.
"The LS588 has been designed for the way UHP tyres need to perform today," said Chris Saunders, Landsail UK Brand Manager. "Whether you need high performance handling or a reliable, family SUV tyre - the LS588 will deliver.
"Millions of drivers have switched to Landsail tyres. Across the UK 1 in every 25 tyres sold is a Landsail. They choose us because our range is designed for them. We employ new technology and innovative design and engineering methods to produce tyres that improve the driving experience."
For more information on the Landsail range or to enquire about joining the Landsail dealer network call 08444 93 9000 or visit www.landsailtyres.co.uk.