Let nothing stop you - choose Landsails 4Seasons van tyre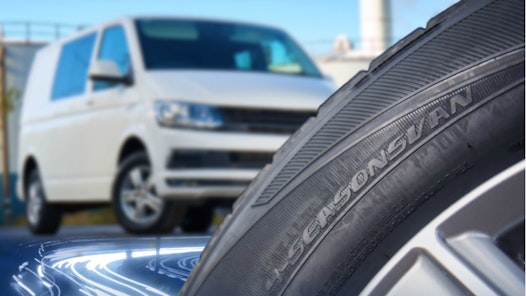 Whatever the weather, if stores need stock or customers need packages, van drivers have to deliver.
That's why Landsail has developed an all-season tyre specifically for light commercial vans.
4Seasons Van uses the latest design innovation to deliver performance that is agile and responsive while also comfortable under significant load.
Crucially however it has 3-Peak Mountain Snowflake certification. In other words it is proven to maintain its performance characteristics in cold and wet weather, so when deliveries reach their winter peak, 4Seasons Van just keeps on working.
"Vans play a more important role in the economy than ever," said Chris Saunders, Landsail UK Brand Manager.
"With more drivers working in the sector it has become more important to ensure they have the right tyres for the job. Cost is an important factor, as is safety, particularly with there being a very obvious peak around late autumn and winter for deliveries.
"Creating a tyre which is designed to perform at an optimal level in all conditions made perfect sense to us and the 4Seasons Van is a tyre van drivers put their trust in."
4Seasons has been extensively tested in snow, ice, rain and dry dusty conditions to underline it's all-weather credentials.
Connected outer blocks and a double central rib maximises contact area and bite while it's advanced silica compound offers a long lifespan married to excellent rolling resistance and fuel efficiency.
Additional grooves and sipes allow the tyre to keep itself free from loose road surface debris and prevent aquaplaning, key to this tyre's ability to perform in any weather.
"The 4Seasons Van tyre is designed for the super-competitive modern world of delivery driving and same-day service," said Chris. "Get ahead of the game and ask your Landsail dealer about it today."
For more information on the Landsail range visit www.landsailtyres.co.uk.